This is a good question. I'm only starting to look now, because my time at DIT comes to an end in December and then I'm taking January off (plus ideally a good chunk of February) to work on musical projects and spend some quality time with my family after quite an intense few years (see the CV for more context on that).
I'm looking for a role as Chief Product Officer or Head of Product at an organisation using technology for some sort of public good or purpose. Public sector, sustainability, B corps, employee-owned, mutuals, education, NGOs and charities. Ideally I'd be using technology to create jobs, not reduce them, but transformation work that makes scarce money be more effective is still valid.
I want to be working for a senior leader that has some commitment to agile and user-centred ways of working; it's OK if they don't know it all, because I can help build their skills too. Their curiosity, and a want to learn together, is important.
I'm looking for a role where I can
coach product managers to get better at their craft, and build a proper community that learns together
help stakeholders understand it's ok to look at assumptions and test them before committing vast amounts
build the space for empowered teams
use my breadth of skills to build alliances between disciplines to build better multidisciplinary leadership – using my understanding of content, infrastructure and user research to get better outcomes
Help improve strategic thinking around hypotheses, the opportunities and metrics that matter
Use my creativity, but also show people how to filter promising ideas through the lens of proper user-centred practices
Get stuck into some complex problems with messy data and organisational flows – I've survived tariffs, after all.
At DIT I've been coaching a community of 17 product managers, with line management responsibility for 4, as well as providing support to colleagues in many other professions. It was a matrix environment, so I wasn't directly responsible for outputs, but together we were looking after the work of well over 100 people. As a Product Lead at GDS I was directly responsible for 4 product managers with a combined team of around 70.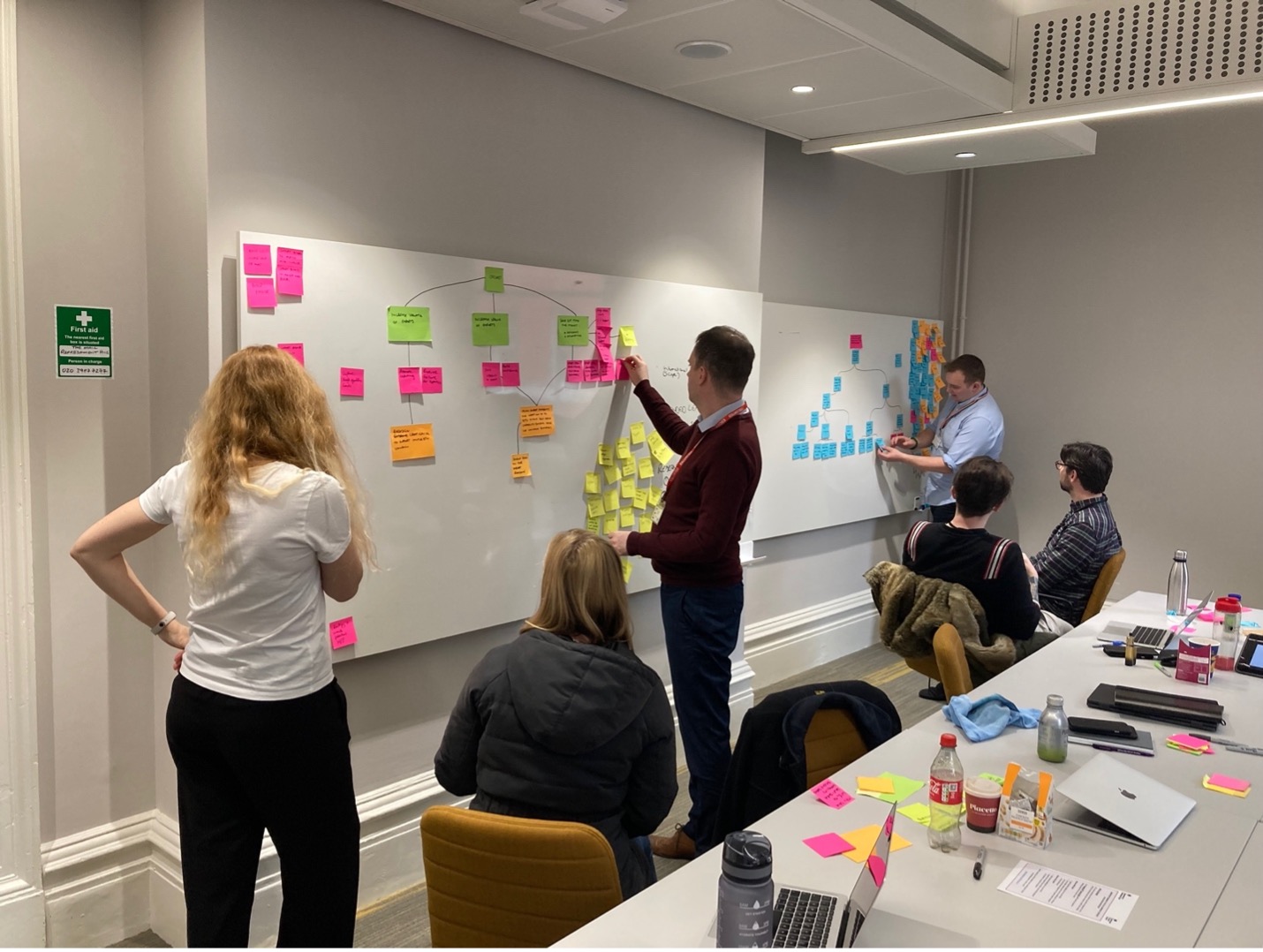 I'm a trainer for Mind the Product, which helps me keep my craft up to date and gives me new perspectives on the teams I work with in the day job. I'd want to be able to take unpaid leave for this. This would probably be a maximum of two days per month, and that's only when I'm teaching the Product Leadership course.
I'd be open to roles that don't require me five days a week – from 3d/week up to 9d/fortnight. I'd also be interested in short-term projects to help develop people and capability, or bootstrap product strategies. But I'm also prepared to get fully stuck in for the right opportunity.
It's worth knowing that I've got aphantasia – my imagination is almost entirely verbal – and so I like working with designers and technologists who can fill those gaps.
I'm happy to go into offices 2-3 days a week, on average, and probably wouldn't want to be fully remote. I'm based in East London (Zone 4), and my heavy commuting/staying away from home days are behind me. I don't mind the occasional trip, but for everyday travel spending more than an hour each way door-to-door would be too much.
Given the above, I wouldn't rule out working for agencies or consultancies, but I don't want to be in a primarily business development role.
If talking about permanent roles, I'd like to know how you'd invest in my development. As a contractor, I've spent a lot of money on developing myself – with workshops from Marty Cagan, Jez Humble, Nicole Forsgren etc, as well as conferences such as SXSW. I wouldn't want my curiosity to atrophy – but please know that I've always brought my knowledge back into the office.
Oh, and I'm not cheap, but I'm also not greedy.
Oh, and if scrolling all the way back to the top is too much hassle, here's another link if you want to look at my CV. You can follow me on LinkedIn (and read some nice things from other people that have worked with me). Also I'm on twitter at @tomskerous – while it lasts – where you can see various other bits of low-grade rambling. Twitter tends to be more about music and wine and cooking, but there's also some product stuff in there too.