A super-short one this week. Still a lot going on at work, but it's nearly all in that "waiting for the tick/feedback" phase. And weirdly, there's little to say right now anyway.
Someone once described blogs as (roughly) "your brain, in real time, on the internet". And normally I use these posts for exploring or explaining how I'm thinking through problems. Working out the structures and themes I'm using, partly in case they're useful to someone else (like the problem/grade mapping thing I talked about a while back), but mainly to try and make sure they're coherent to myself.
(Marina Hyde describes writing her columns for The Guardian in the same way. She will start writing around a vague topic, or have a few half-jokes she's thinking of using, but the words will evolve and take on their own life – and it's only at the end she can look back and say "oh, so that's what I thought about [topic x]!")
But right now I'm actually not agonising about anything. There are some slightly mundane-but-important things I'm cracking on with – writing down lists for others to feed back on, often based on stuff I knew worked from DIT. But I have no existential dreads to share. I'm actually feeling remarkably solid and sure of myself, which is a great place to be. Even if it makes for very boring blogging. Sorry about that.
Even this following bit is going to be remarkably short…
Elsewhere: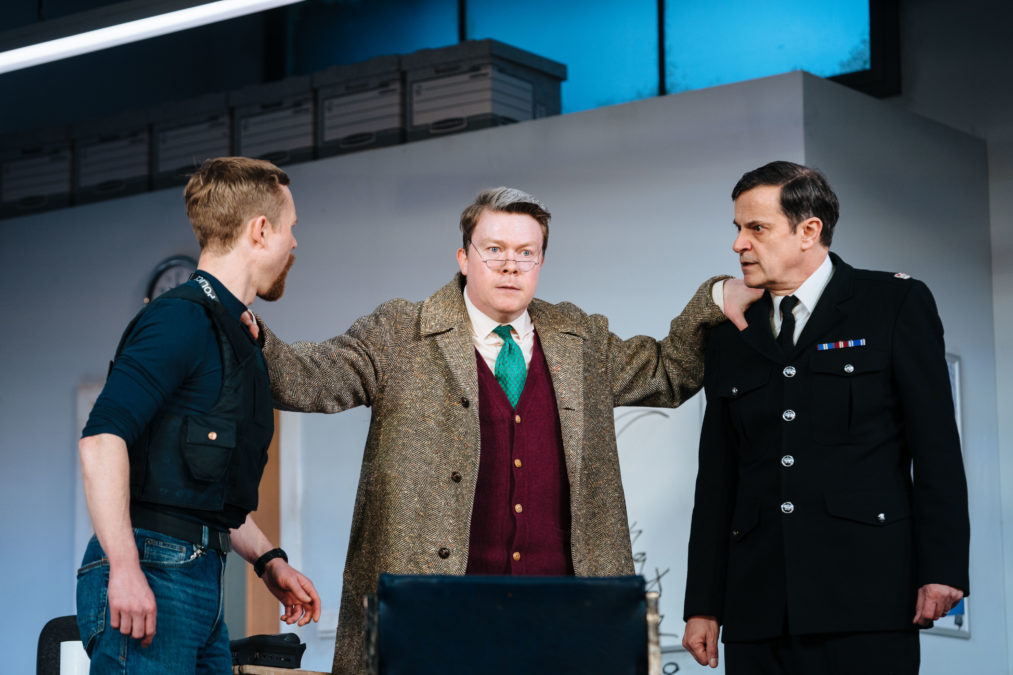 Went to see an amazing adaptation of "Accidental Death of an Anarchist" at the Lyric Hammersmith. Daniel Rigby was just incredible as The Maniac, and the adaptation by Tom "Fresh Meat/Plebs/Cowards/Here We Go" Basden is very poignant. It's only open for another week, but you should go if you remotely can.
Discovered that the wonderful Grasscut had sneaked out an album during lockdown called 'Haunts' which is just absolutely beautiful. If you ever wondered what happened to all the other people from Brighton indie-folkists Passenger after 'Wicked Man's Rest', it was this. At least when Andrew Phillips isn't writing the music for the Stanley Tucci on Italy and Marcus O'Dair isn't lecturing on the music business at Sussex Uni.
At the other end of the spectrum, thanks to a passing tweet by Mark O'Neill, I discovered the insane hyperpop gem that is "Daphne and Celeste Save The World". Made over fifteen years after their first record, it's like a collaboration between Charli XCX's producer A.G.Cook and Dave Stewart&Barbara Gaskin. With some Anna Meredith in the mix. Or…a Max Tundra record, which is what it basically is. So many insane textural changes, bits in nearly-complex-time, unexpected chords. It's 100% not what I expected, and a total weird delight.
Not much music's been written or piano played, but I've been having lots of fun poking around with the Prophet 12.
I've spent a lot of the weekend reassembling the MtP "Product Leadership" course in my head. Pulling together these vast pieces of learning architecture back into a coherent whole is always a challenge, given that I don't have any visual ways to mentally store it all, thanks to my aphantasia. I have to learn it more like a play, so that we can then improvise around it with the actual participants. But it's getting there.
Next week brings Phaedra, Orbital, and hopefully a mandate at work. But also hot cross buns. Yay!
I'll leave you with Daphne and Celeste. No really, you should listen to this. It's definitely not their 2000-era work, I promise.